Adastra UK
Verve complete work on an Interactive presentation for Adastra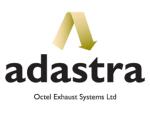 Verve Digital were recently responsible for the creation of a rolling presentation for Adastra. Adastra are a company who has come up with a unique and cost-effective solution for cutting diesel exhaust emissions without compromising engine performance. Adastra's new technology can be fitted to both old and new commercial vehicles, from taxis to trucks.
In order to demonstrate this to their potential customers, Adastra drew on the expertise of Verve Digital.
The brief was to create a rolling presentation, that would be shown to potential customers at Adastra's stand at the Commercial Vehicle show on the 25th March at the Birmingham NEC. This presentation had to give an overview to the company, as well as to give the presentation's target audience an insight into why they should choose to use Adastra's system.
Verve Digital were able to come up with a solution that was on time, and on budget. The presentation was shown at the Birmingham NEC, and was a great success.