Company Cards

Verve Digital completes work for Company Cards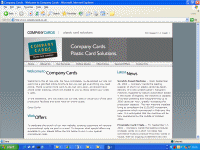 Verve Digital has recently completed work on a new website for Company Cards, a plastic card printing company based in St. Helens, Merseyside.
Company Cards as a company already had experience of the Internet, and had a website already up on the web detailing their products and services. Company Cards were making good use of the website already to market their products to new and existing audiences, although the old site was beginning to age and the content was becoming dated.
Through Verve Digital's expertise Company Cards were able to take their website to another level. With a redesign of the website, and a number of new features to their site to accompany their new site design. Through Verve Digital's expertise in developing web applications, not just static websites, all of Company Card's customers have customised access to the site through their own username and password, and can access personalised quotes and upload artwork to Company Cards directly.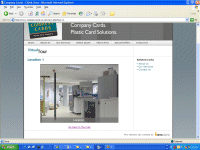 Verve Digital were also able to include 360 degree panoramic images as part of the website, allowing potential customers to see the production process at Company Cards
The new website aids Company Cards staff in keeping track of visits and Customer interest in products, through a database backend which keeps track of customer's activity and quote requests. The ability to retrieve quotes from the website has aided Company Cards to keep control of their workflow, as more customers use the site to retrieve information this relieves staff members, who are able to aid in other parts of the card development process. Verve Digital appriciate that the personal touch is still required however, so the facility to request a callback from a 'real' person is included.
To view Company Cards' improved website, please visit http://www.companycards.co.uk.